Answers for your questions
How to make order and what you ahve to provide?
Send the order on originalni-pf@email.cz. Write the number of ordered pieces, your delivery address, invoicing address and tell us whether you want to print a logo on the model. If so, please attach your logo in electronic form and/or your contacts or text. Graphics ideally in cdr, ai, eps files. It is possible to use also jpg, bmp etc. files in case they will be of a sufficient quality. Before printing we will send you a preview for your approval and price calculation.
How can be the quad emprinted?
Standard print includes 2 places. On the back (usually a logo) and on the bottom (ussually contacts). The maximum dimensions are indicated on the picture. For extra payment we can make a print on any other parts.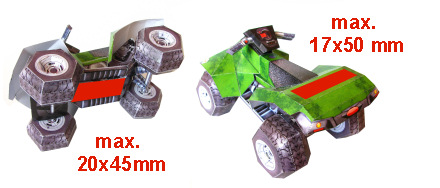 What kind of graphic files should i sent?
Ideally cdr, ai, eps files. The font should be in curves. Bitmap files such as jpg or bmp are suitable only in a high quality. In case you want to print some text, you can write it directly in the email.
What colour can you print?
Black is a standard, which fits the model most and it is suitable even for colour background. The print with any other colour costs double price, because it is necessary to use a base colour. That is why we do not recomend it, but if there is a wish we can manage it.
What is the delivery term?
Print of the logo tooks 14 days at maximum. Then it depends on freight time. If you do not wish printing, the package is sent the next working day.
Jak probíhá doprava?
Zásilky do 30kg jsou zasílány na dobírku Českoku poštou. Těžší zásilky jsou zasílány na dobírku přepravní službou. Hmotnost zásilky i ceník dopravy najdete v ceníku.

Do you provide the quad in other colours?
Each colour version is necessary to be printed in thousand pieces to offer acceptable price. That is why we offer the quad only in green colour. In case you are interested in a sufficient ammount, we can make you an offer for other colours.
What are the quads dimensions ?
A picture of the quad in a hand of and adult can be found in the hotogallery to give you an idea. Dimensions are 16,5x10x9,5 cm. Well, in case you manage to glue it in the right way :-)
What I need to assemble the quad?
Scisors or breaking off knife for cuting it out. Then something to bend the edges. For example non-writing pen, manicure hoof, vypsaná tužka, kopýtko z manikúry or rouded part of the knife edge. Of course a glue and eventually a small stick to putting on the glue. And finally one little thing, which you will need the most. A bit of patience. :-)
How it looks non-assembled?
It is a brochure of A4 size, with a cover and four sheets of harder paper with quad parts. On the cover there are clear graphical instructions. Completely in a form of pictogrammes, understandable for everyone, no matter of the language. So it is ecellent gift even for your foreign business partners.
I am not able to prepare graphical materials for print. Can you prepare it for me?
Yes. If you only want to rewrite the texts into graphical form, we will do it for free. If you do not have a logo in curved format (cdr, ai, eps) nor bitmap (jpg, gif, bmp, ...) of sufficient quality, we can redraw your logo. The price of redrawing depends on complexity. It is approximately 15 Eur.
Can I order already assembled quads?
No. To assemble the quad, precisely and when you are not very skilled can took a couple of hours. And what is more, assembling is the biggest joy of this gift.
Can I pick up the order personally?
If you mention that in your order and if we arrange the time beforehand, you can lift it personally. We reside in Vysoké Mýto - Czech Republic. Precise address of handover will be set individually.
Is it possible to claim the order?
If the package was somehow damaged, tell it to the mailman or transport company worker before you open it. He will tell you how to claim the damaged package. You should be allowed to open the package at his presence and ckeck the content. So far we did not have any complaints. The package content is also packed in a protective air foil.
Do you have any special requests or demands ?
Please see the FAQ section. If it wont help, we would be glad to answer your questions on originalni-pf@email.cz or +420 605 53 58 59. We prefer communication via email.
Here you find pricelist and order instructions.